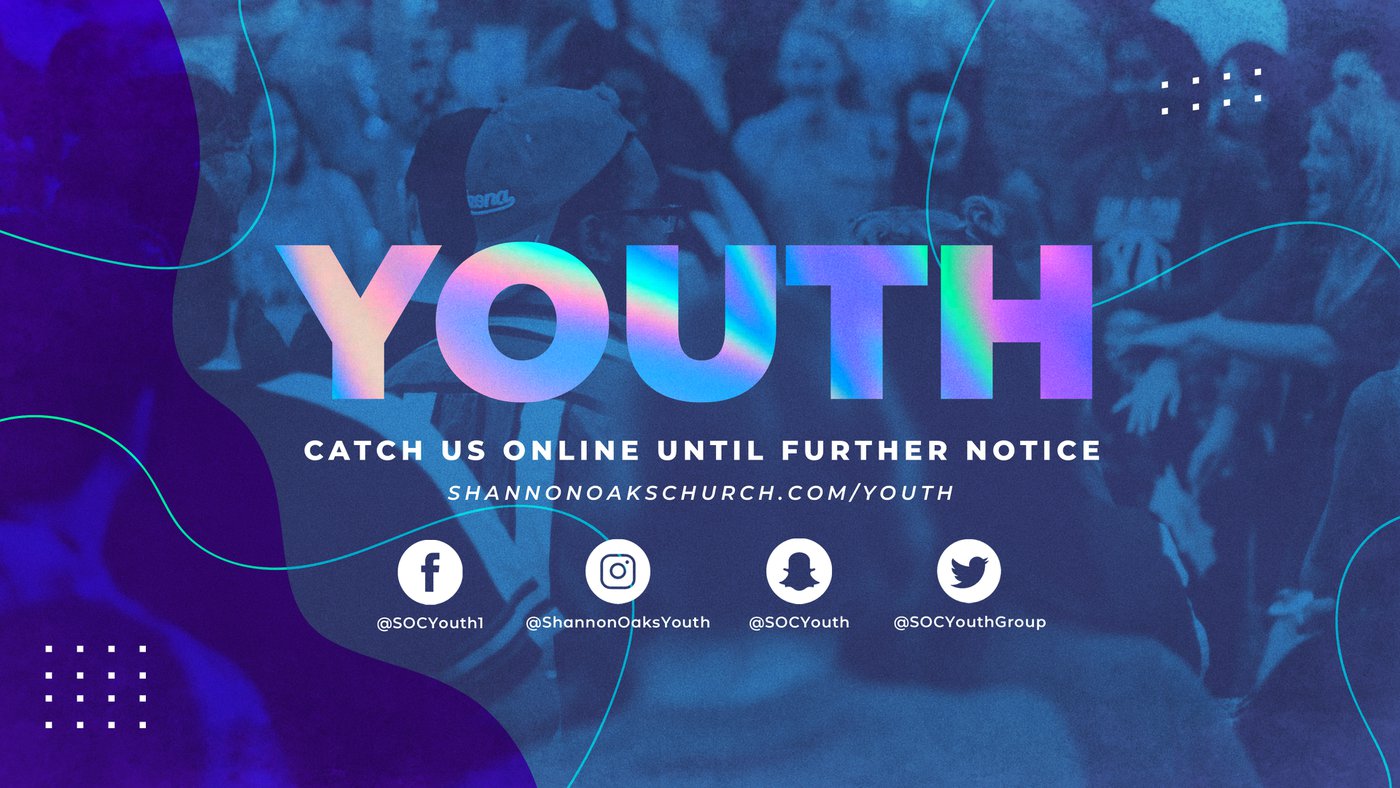 Hello to all of you who are connected or desiring connection to the SOC Youth Family! During this time, we will have NO CORPORATE GATHERINGS at Shannon Oaks Church.
This is not where the church ends, it's where it began!
In bible times, we constantly see the church in ways that we aren't used to seeing in the 21st century.
Church was held at home, in an open field, on the beach, on a boat, on the street side and many other places.
LET'S be the church!
It is so important in this time to stay focused on the things that the Lord has given us such as Peace, Hope, Trust and Faith.
Here are some ways we can continue to invest in our families and ourselves as we go day by day through this unprecedented time.
Here are a few ways I would encourage you to put your best foot forward. Its what you were made for!
READ:
Read the word of God together. There are many studies or passages in scripture that can be helpful in time like this, so read and discuss those together as a family DAILY.
MEDITATE:
Spend time specifically reading/thinking on what the Lord is showing you. Ask God a question and spend some intimate quiet time listening. Listening. Listening. Trusting. God I trust you.
ENCOURAGE:
Write cards of encouragement to friends, family members and/or neighbors.
Tell your child why they are special.
Write notes of thanksgiving and put them around the house for continual reminders.
Send a text/make a call to someone you haven't seen in a while and let them know what the lord is doing in your life.
PRAY:
Make a list of people to pray for.
Focus on praising God for who He is.
A great way to do this is to go to one of the Psalm chapters and find the attributes of God that are mentioned.
Give thanks to God for the things that he has given us.
Be fervently praying for the lord to not only heal those who have been affected by this virus, but also pray for those people and others to get connected to the source of joy and peace, Jesus.
PLAY:
It's hard to beat a good ole game of Connect 4 or Uno.
Parents, Your kids will always remember the effort you put into connecting with them!
Weather permitting, step outside and get some fresh air daily! Take in all the beauty the lord has given us!
SHARE:
It's so important to share the good news that Jesus has given us. Take this opportunity to push yourselves to new limits and share the Gospel with just one person TODAY! Then wake up and repeat tomorrow!! God is so good, let's let everyone know!
PARENTS, YOU WERE MADE FOR THIS!
QUESTIONS?
If you have further questions concerning our SOC Youth experience or visiting Shannon Oaks Church with students, simply click the button below and get in touch with us!
During this time, we will not be meeting on Wednesday nights. Instead, we will be meeting online! Follow us on all of our social media platforms to stay connected! Be sure to check this page for new info!
FACEBOOK - @SOCYouth1
INSTAGRAM - @ShannonOaksYouth
SNAPCHAT - @SOCYouth
TWITTER - @SOCYouthGroup
Contact Jonathan McGraw if you have any questions
903.517.5323 // jonathan@shannonoakschurch.com