RESURRECTION SCAVENGER HUNT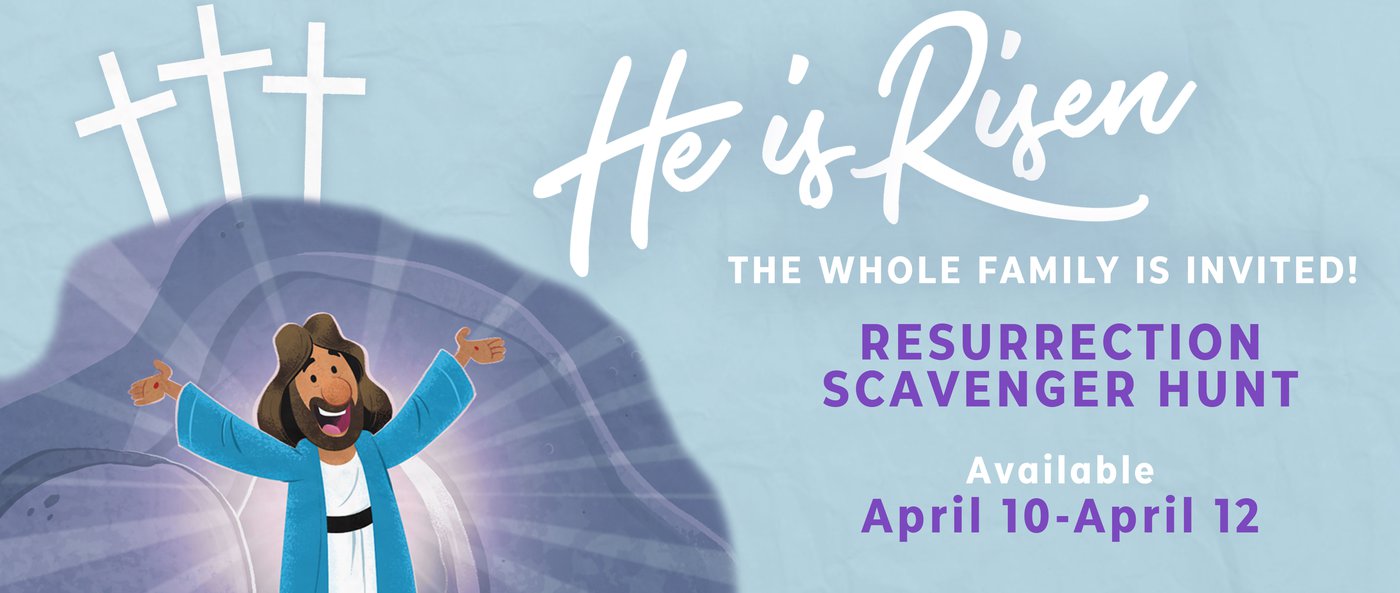 FAMILY LESSON FOR THIS SUNDAY!
Family Time!
Below, you can access age-appropriate documents that you can review and work through as a family.
The activities are intended to create an experience that reinforces the truths learned in the Bible story.
Take the time to remind your child that our God is unchanging, sovereign and we can always put our trust in Him!
(This lesson will be updated after Wednesday of each week)
3/22/20 - Lesson Documents for Daniel's Dream
Birth - 2, Ages 3-4, K-1st grade, 2nd-5th grade
3/29/20 - Lesson Documents for Obadiah the Prophet
Birth - 2, Ages 3-4, K-1st grade, 2nd-5th grade
4/5/20 - Lesson Documents for The Captives Came Home
Let me know if you are interested in or using the lesson plans - email Josh
NEXT LEVEL
For a fun, extra activity (that will earn your child more points to spend at our Next Level Store),
click the link below to access this week's Next Level document.
Find the blessing in COVID - 19
Like anything that has tragedy and pain, there can always be silver linings that we can appreciate and celebrate!
Here is a short list of some ideas to really make the most of your time together as a family:
READ THE BIBLE together (if you're not doing that already)
Use this app for some creative ways to experience the Bible - YouVersion's Bible App for Kids.
Act out the stories with your child.
Draw a picture of the story you read with your child.
Memorize scripture (try for 1 per day)
for 5 yr olds (try a 5-10 word verse)
for 6 yr olds (try a 6-12 word verse)
etc.
ENCOURAGE
Write cards of encouragement to friends, family members and/or neighbors.
Tell your child why they are special.
PRAY
Make a list of people to pray for.
Focus on praising God for who He is.
A great way to do this is to go to one of the Psalm chapters and find the attributes of God that are mentioned.
PLAY
Make sure to regularly build in times to laugh.
It's hard to beat a good ole game of Connect 4 or Uno.
Your kids will always remember the effort you put into connecting with them!
Have a dance party! ... and go all out!!!
Daily outdoor adventures in open spaces.
SHARE
It's so important to share the good news that Jesus has given us. Take this opportunity to push yourselves to new limits and share the Gospel with just one person TODAY! Then wake up and repeat tomorrow!! God is so good, let's let everyone know!
If sensible, make the fun be about blessing and serving others. This gives kids something to look forward to – which helps mitigate pervasive stress. It also gives you practical opportunities to share Jesus' love with neighbors.
PARENTS, YOU WERE MADE FOR THIS!
QUESTIONS?
If you have further questions concerning our SOC Kids experience or visiting Shannon Oaks Church with children, simply click the button below and get in touch with us!